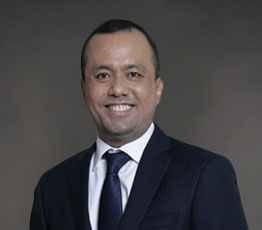 Ahmad Zakiruddin Mohamed
Senior Vice President,
Operations
En. Ahmad Zakiruddin Mohamed, aged 45, is the Senior Vice President, Operations in Sapura Energy Berhad (formerly known as SapuraKencana Petroleum Berhad) ("SEB") and the Director of SapuraKencana HL Sdn. Bhd.
He holds a Bachelor of Engineering in Mechanical Engineering (Honours) from University of Warwick and has over 19 years of experience working in Malaysia, North Africa and Europe with exposure in a range of industries and sectors.
En. Zakiruddin started his career at Ranhill Bersekutu Sdn. Bhd. before moving to WS Atkins Consultants Limited, United Kingdom (UK) as a mechanical engineer. He also worked in Detmoravice, Czech Republic under RMC Group PLC, UK prior to his career at Ranhill Engineers & Constructors Sdn. Bhd. and Ranhill Power Sdn. Bhd.
In 2009, he was appointed as the Chief Executive Officer of Ranhill E&C Sdn. Bhd. and Amona Ranhill Consortium Sdn. Bhd. to oversee the contract by the Libyan Housing and Infrastructure Board (HIB) to design and construct 10,680 apartment units in Tajura, Libya.
He joined SEB in 2012 as the Vice President, Strategic Business Support in which he oversees the technical aspects and operational strategic initiatives under the President & Group CEO's Office directions.
En. Zakiruddin is a certified Chartered Engineer (Engineering Council), UK and a member of the Institute of Mechanical Engineers (MIMechE), UK. He also holds a trained Six Sigma Black Belt from Motorola University.