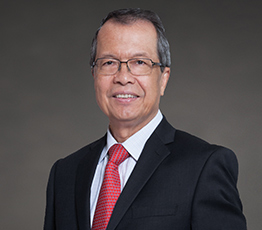 Dato' Hamzah Bakar
Chairman,
Non-Independent Non Executive Director,
Malaysian
Dato' Hamzah Bakar, aged 72, was appointed to the Board of Directors ("Board") of Sapura Energy Berhad (formerly known as SapuraKencana Petroleum Berhad) on 9 December 2011 as the Chairman and an Independent Non-Executive Director. On 6 February 2013, Dato' Hamzah was redesignated as the Non-Independent Non-Executive Chairman.
Prior to the merger of the businesses between SapuraCrest Petroleum Berhad ("SapuraCrest Petroleum") Group and Kencana Petroleum Berhad Group, Dato' Hamzah was appointed to the Board of SapuraCrest Petroleum on 4 July 2003 as a nominee of Sapura Technology Sdn Bhd. He was then appointed as the Non-Independent Non-Executive Chairman of SapuraCrest Petroleum on 25 July 2003. He was also the Chairman of the Nomination Committee and Remuneration Committee of SapuraCrest Petroleum.
Dato' Hamzah has served 20 years in various senior management and Board positions in Petroliam Nasional Berhad ("PETRONAS") including as a Senior Vice President for Refining and Marketing as well as a Senior Vice President for Corporate Planning and Development. He also served as the first Chief Executive Officer of KLCC Holdings Bhd, responsible for the planning and construction of the Kuala Lumpur City Centre, including the landmark PETRONAS Twin Towers. Prior to joining PETRONAS, he served in the economic Planning Unit of the Prime Minister's Department for 12 years. He has also sat on the Boards of CIMB Group Holdings Bhd as well as CIMB investment Bank Berhad. Currently, Dato' Hamzah is a member of the Board of Trustees of the Malaysian Institute of Economic Research.
Dato' Hamzah holds a Bachelor of Science (Honours) in Economics from Queen's University Belfast, United Kingdom, and a Master of Arts in Public Policy and Administration with Development Economics from the University of Wisconsin, United States of America ("USA").