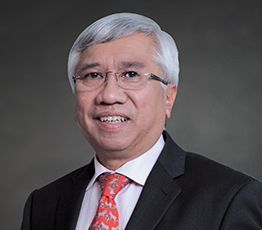 Mohamed Rashdi Mohamed Ghazalli
Independent Non-Executive Director,
Malaysian
En. Mohamed Rashdi Mohamed Ghazalli, aged 59, was appointed to the Board of Sapura Energy Berhad (formerly known as SapuraKencana Petroleum Berhad) on 9 September 2011 as an Independent Non-Executive Director.
Prior to the merger of businesses between SapuraCrest Petroleum Berhad ("SapuraCrest Petroleum") Group and Kencana Petroleum Berhad Group, En. Mohamed Rashdi was an Independent Non-Executive Director of SapuraCrest Petroleum, a post he held since 14 november 2003.
En. Mohamed Rashdi has extensive experience in industry and consulting. He initially worked in the telecommunications industry with Jabatan Telekom Malaysia (now known as Telekom Malaysia Berhad) before joining the Sapura Holdings Group in 1983 as a founder member of its Information Technology ("IT") business. He decided to move into consulting in 1989, building a career with Coopers & Lybrand, PWC Consulting, IBM Consulting ("IBM") and PricewaterhouseCoopers over a span of 20 years.
During his career, En. Mohamed Rashdi worked overseas with Telecoms Australia as well as Coopers & Lybrand in the United Kingdom. He was a Partner of PWC Consulting East Asia as well as IBM Consulting. He was also the IT and Consulting Advisor with PricewaterhouseCoopers Malaysia focusing on capacity building, business development and quality assurance. After leaving the firm, he served as an independent consultant for a number of organisations.
As a management and technology consultant, En. Mohamed Rashdi has personally led assignments in strategy and economics, business process improvement, information systems planning and large-scale project management. He has provided consultancy expertise across a number of industries such as government, telecommunications, oil and gas, transportation and utilities. He was also involved in the manufacturing and financial services sectors.
En. Mohamed Rashdi is currently an Independent Director of Malaysia Venture Capital Management Berhad and Barclays Capital Management Malaysia Sdn Bhd, a subsidiary of Barclays Plc.  In 2014, he was also appointed to the boards of Credit Guarantee Corporation Berhad and Danajamin Nasional Berhad.
En. Mohamed Rashdi graduated from the University of Manchester Institute of Science and Technology, United Kingdom in 1979.