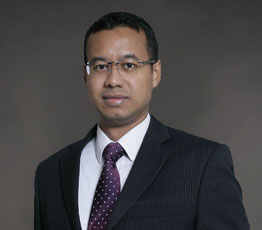 Reza Abdul Rahim
Group Chief Financial Officer

En. Reza Abdul Rahim, aged 41, was first appointed as the Senior Vice President of the Offshore Construction and Subsea Services Division in Sapura Energy Berhad (formerly known as SapuraKencana Petroleum Berhad) in 2012 before assuming the role of Group Chief Financial Officer on 1 June 2016.
He holds a Bachelor of Science in Accounting & Finance (First Class Honours) from London School of Economics and Political Science and a MPhil in Finance from University of Cambridge. En. Reza is also a member of the Institute of Chartered Accountants in England and Wales as well as the Malaysian Institute of Accountants.
His experience in the audit, financial management and corporate finance sector has led him to several senior positions within the industry. He previously held the title of Group Financial Controller of Sapura Technology Berhad and Chief Financial Officer of Sapura Holdings Sdn. Bhd. prior to his position as Senior Vice President and Head of Group Corporate Finance at Axiata Group Berhad.