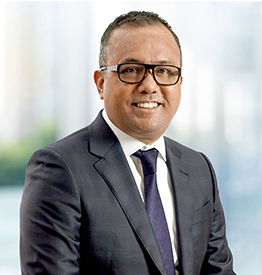 Ahmad Zakiruddin Mohamed
Chief Executive Officer,
Engineering & Construction
AGE / GENDER/ NATIONALITY:
49 / Male / Malaysian
DATE OF APPOINTMENT:
1 January 2014
DIRECTORSHIP IN OTHER PUBLIC COMPANIES AND LISTED ISSUERS:
WORKING EXPERIENCE:
Encik Ahmad Zakiruddin Mohamed is the Chief Executive Officer, Engineering & Construction in Sapura Energy. He joined Sapura Energy in 2012 as Vice President, Strategic Business Support, overseeing technical and operational strategic initiatives in the President and Group Chief Executive Officer's office. He has since been appointed to several positions, including VP Fabrication, SVP Fabrication & HUC, SVP E&C Malaysia and SVP Operations, E&C and Group Supply Chain. In his role within Sapura, he has led the delivery of large-scale projects in Asia Pacific, Middle East and the Americas.
Encik Zakiruddin started his career at Ranhill Bersekutu Sdn Bhd before moving to WS Atkins Consultants Limited, United Kingdom (UK) in 1999. He also worked in Detmarovice, Czech Republic under RMC Group PLC, UK before returning to Malaysia to rejoin the Ranhill group in 2002.
During the period of 2009 to 2012, Encik Zakiruddin was the Chief Executive Officer of Ranhill E&C Sdn Bhd and Amona Ranhill Consortium Sdn Bhd Encik Zakiruddin has 27 years of experience working within a range of industries and sectors with exposure in Engineering, Procurement, Construction, Installation and Commissioning.
ACADEMIC/ PROFESSIONAL QUALIFICATIONS:
Chartered Engineer (Engineering Council), United Kingdom
Member of the Institute of Mechanical Engineers (IMechE), United Kingdom
Bachelor of Engineering (Honours) in Mechanical Engineering, University of Warwick, United Kingdom