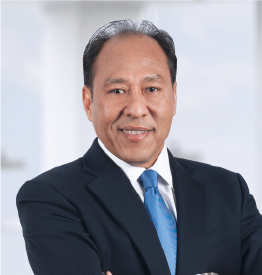 Datuk Kris Azman Abdullah
Senior Vice President,
Exploration & Production
AGE / GENDER/ NATIONALITY:
55 / Male / Malaysian
DATE OF APPOINTMENT:
15 May 2012
DIRECTORSHIP IN OTHER PUBLIC COMPANIES AND LISTED ISSUERS:
Director, SapuraCrest Petroleum Berhad
WORKING EXPERIENCE:
Datuk Kris Azman Abdullah is the Senior Vice President of Exploration and Production Division, Sapura Energy. He is also currently the Chief Executive Officer of SapuraOMV Upstream Sdn Bhd (formerly known as SEB Upstream Sdn Bhd) where he leads a multi-disciplinary team that manages all exploration and production activities for Sapura Energy.
The Exploration and Production Division is a sizable regional player within this sector with a significant gas holding position in Malaysia as a result of its successful exploration program. His current portfolio at Sapura Energy includes the development of key strategies and management of the operatorship and partnerships in the development and production of greenfield, brownfield and marginal oil and gas fields, investments and ventures of key production assets, as well as ventures of new field development and production technologies.
He joined the group in 2010 when he was appointed as the Executive Director of Group Strategy and Business Development at Sapura Group of Companies, where he was involved in the negotiations and closing of Malaysia's first Risk Service Contract oilfield development project in January 2011.
Datuk Kris joined the Group with more than 20 years' experience in various capacities within the financial services industry from investment banking, stock broking and corporate restructuring.
Prior to joining the Group, he was the Executive Director of Issues and Investment Division at Securities Commission Malaysia where he was responsible for the regulatory oversight function as well as overall market development.
Datuk Kris currently sits on the Malaysia-Singapore Business Advisory Council and the Malaysia-Brazil Business Council.
ACADEMIC/ PROFESSIONAL QUALIFICATIONS:
Corporate Finance (CF) designation from the Institute of Chartered Accountants in England and Wales (ICAEW)
Bachelor of Art (Honours) in Accounting, Michigan State University, United States of America