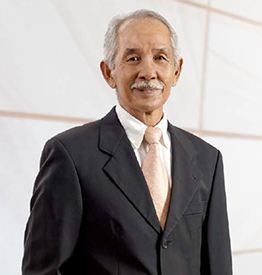 Datuk Muhamad Noor Hamid
Independent Non-Executive Director
AGE / GENDER/ NATIONALITY:
70 / Male / Malaysian
DATE OF APPOINTMENT:
14 April 2015
BOARD COMMITTEE MEMBERSHIPS:
Chairman, Board Risk Management Committee

 

Member, Board Audit Committee

 

Member, Board Nomination and Remuneration Committee
DIRECTORSHIP IN OTHER PUBLIC COMPANIES AND LISTED ISSUERS:
EXPERIENCE/ACHIEVEMENT AND OCCUPATION:
Has more than 30 years of direct working experience in the oil and gas industry ranging from project planning and implementation, operations, consultation and contracts, out of which 20 years of service was in PETRONAS and PETRONAS Gas Sdn. Bhd.

 

Chief Operating Officer, Chief Executive Officer and Managing Director of Gas Malaysia Berhad (2003 - 2013).

 

Chief Operating Officer of Projass Engineering Sdn. Bhd., a Class A Bumiputera construction company involved in oil and gas, power and infrastructure works (2000 - 2003).

 

General Manager of Pipeline Division in OGP Technical Services Sdn. Bhd., a joint venture company between PETRONAS and Nova Corporation of Canada (1993 – 1999).

 

Head of the Pipeline Operation Division and Peninsular Gas Utilisation II project team of PETRONAS (1989 – 1992).

 
ACADEMIC/ PROFESSIONAL QUALIFICATIONS:
Bachelor of Science (Honours) Degree in Mechanical Engineering, Sunderland Polytechnic, United Kingdom.

 

Post Graduate Diploma in Natural Gas Engineering, Institute of Gas Technology in Chicago, Illinois, United States of America.

 

Management Programme, Wharton Business School of Management, University of Pennsylvania, United States of America.