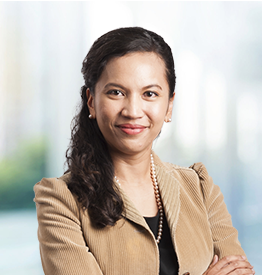 Melissa Lokman
Chief Strategy Officer, Group Strategy
AGE / GENDER/ NATIONALITY:
40 / Female / Malaysian
DATE OF APPOINTMENT:
1 February 2022
DIRECTORSHIP IN OTHER PUBLIC COMPANIES AND LISTED ISSUERS:
WORKING EXPERIENCE:
Melissa subsumed the role of Chief Strategy Officer in Sapura Energy in 2022 having joined the Group in 2015. She now leads the Reset initiatives for the Group, driving the restructuring initiatives to achieve a sustainable business model moving forward. She and her team acts as the secretariat for the Board Reset Task Force (BRTF).
In 2019, she was the General Manager for People Strategy and Development of Group Human Resources Department (later renamed the People & Culture Office). The role enabled transformation initiatives to take place for management of people within the Group by enhancing controls, focusing on talent development, and improving efficiencies through automation. Prior to this role, she worked in the PGCEO Office to provide support to the leadership team on various strategic initiatives for the Group which includes new market expansion and large-scale reorganisation.
Before joining Sapura Energy, 
Melissa
 began her career at Credit Suisse in London, as a derivatives trader. Subsequently, she joined Boston Consulting Group (BCG) in Kuala Lumpur as a Consultant with experience across heavy industries, retail banking and the public sector in the region.
ACADEMIC/ PROFESSIONAL QUALIFICATIONS:
BA (Hons)/MEng, Engineering (2005), Cambridge University, United Kingdom