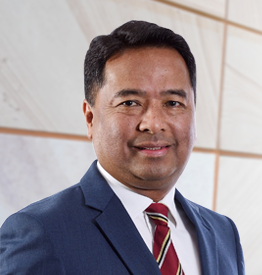 ROHAIZAD DARUS
Non-Independent Non-Executive Director,
Malaysian
AGE / GENDER/ NATIONALITY:
57 / Male / Malaysian
DATE OF APPOINTMENT:
1 June 2022
BOARD COMMITTEE MEMBERSHIPS:
Member, Board Audit Committee
Member, Board Risk Management Committee
DIRECTORSHIP IN OTHER PUBLIC COMPANIES AND LISTED ISSUERS:
EXPERIENCE/ACHIEVEMENT AND OCCUPATION:
He has worked with both local and multinational companies. These include PETRONAS Gas, SapuraKencana, a predecessor to Sapura Energy, and Velesto Energy. He has also served Texas Instruments and Esso Production Malaysia.
Rohaizad's experience covers most aspects of upstream activities which include soil investigations, hydrographic surveys and underwater diving services. He also spent significant time in offshore construction activities including transportation, installation and commissioning of platforms, pipelines and cables as well as maintenance of offshore and onshore facilities. He was also responsible for managing marine vessels performing construction heavy lift, pipelaying and providing crew accomodation. Prior to his retirement, his responsiblities include overseing operations of drilling rigs and workover operations.
On the corporate side, his experience includes managing Initial Public Offering (IPO), rights issue, syndicated loans and corporate restructuring, including demerger and capital reduction exercise.
Rohaizad's last position prior to his retirement in February 2022 was as President of Velesto Energy Berhad, a position that he held since 2012. Velesto Energy is involved in offshore drilling, well intervention and oilfield service activities. Prior to joining Velesto Energy in 2012, he was the Chief Executive Officer of Offshore Construction Division of SapuraCrest Petroleum Berhad.
Presently, he is actively involved in the oil and gas industry as Advisor to the Malaysian Oil and Gas Services Council (MOGSC), member of Industry Advisory Panel of Malaysian Petroleum Resource Corporation (MPRC) besides being Adjunct Professor at Universiti Teknologi Petronas.
ACADEMIC/ PROFESSIONAL QUALIFICATIONS:
Bachelor of Science in Mechanical Engineering, California State University, Long Beach, United States.