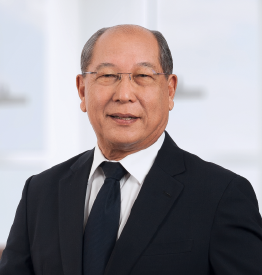 Tan Sri Datuk Amar (Dr) Hamid Bugo
Senior Independent Non-Executive Director,
Malaysian
AGE / GENDER/ NATIONALITY:
73 / Male / Malaysian
DATE OF APPOINTMENT:
27 February 2012
Independent Non-Executive Director
6 February 2013
Senior Independent Non-Executive Director
BOARD COMMITTEE MEMBERSHIPS:
Chairman, Board Nomination Committee
Member, Board Audit Committee
Member, Long-Term Incentive Plan Committee
DIRECTORSHIP IN OTHER PUBLIC COMPANIES AND LISTED ISSUERS:
Chairman, Sapura Resources Berhad
Chairman, Petroleum Sarawak Berhad
WORKING EXPERIENCE AND OCCUPATION:
Prior to the merger of businesses between SapuraCrest Petroleum Group and Kencana Petroleum Group, Tan Sri Datuk Amar (Dr) Hamid was appointed to the Board of SapuraCrest Petroleum on 25 July 2003 as an Independent Non-Executive Director. He was also a member of the Audit Committee, Remuneration Committee and Nomination Committee of SapuraCrest Petroleum.
Tan Sri Datuk Amar (Dr) Hamid's working experience includes serving as the Administration Manager, Malaysia LNG Sdn Bhd ("Malaysia LNG"), the first General Manager of the Land Custody and Development Authority, Sarawak, the Permanent Secretary, Ministry of Resource Planning, Sarawak, and the State Secretary of Sarawak. He previously sat on the boards of various companies and statutory bodies including Sime Darby Berhad Group, Malaysian Airline System Berhad, Malaysia LNG, the Employees Provident Fund Board, Universiti Malaysia Sarawak and Universiti Pertanian Malaysia (now known as Universiti Putra Malaysia).
He was the Founding Chairman of the Sarawak Biodiversity Centre. He was actively involved in the listing of Mulu National Park as a World Heritage Site. He was also the first Managing Director of Sarawak Information Systems Sdn Bhd (SAINS).
He is active in charitable activities as the Chairman of Yayasan Kemajuan Insan Sarawak and the Chairman of the State Library Sarawak. He is also a council member of the Institute of Integrity, Malaysia.
Tan Sri Datuk Amar (Dr) Hamid is a recipient of an Excellent Award from the American Association of Conservation Biology.
ACADEMIC/ PROFESSIONAL QUALIFICATIONS:
PhD (Honorary) Degree in Commerce, Lincoln University, New Zealand
Master and Bachelor of Arts in Economics, Canterbury University, New Zealand
Postgraduate Diploma in Teaching, Christchurch Teacher's College, New Zealand
Postgraduate Certificate in Business Studies, Harvard Institute of Development Studies, United States of America