Energy Council
APAC Company of the Year (Energy Services, Offshore and Marine)
Frost & Sullivan
Marginal Oil Fields Development Company of the Year Award
The Oil & Gas Year
New Upstream Player of the Year
Our Sapura Energy values
Safe, Honest, Agile, Respectful, Professional – (S.H.A.R.P builds Trust) provide the framework for how we want to collectively behave and what our people, our clients, our shareholders and the greater community at large can expect from us; they define us in every aspect. In line with these values, the Health, Safety and Environment ("HSE") aspects of our business, and the high standards we constantly strive for these, are the key priority ones across the entire value chain that Sapura Energy Berhad ("Sapura Energy") and its subsidiaries ("the Group") cover. Keeping our employees safe is our ultimate responsibility as an employer. Safety goes beyond compliance and a license to operate – it is about a genuine care for all on our work sites. The environments in which we operate are dynamic, our work is complex and demanding, and these factors expose our people to many potential hazards that naturally present risk, all of which must be rigorously controlled in a disciplined manner through visible safety leadership and with uncompromising integrity. Notwithstanding the nature & breadth of our work on land and at sea, a harm-free workplace remains our objective every day and everywhere that we operate. We will continue to further strengthen the safety culture and leadership amongst all our employees, to accomplish this objective.
9-Life Saving Rules
The recent adoption of to Nine (9) Life Saving Rules, as developed by the International Association of Oil & Gas Producers (IOGP), is another step to support our zero-injury goal. It will simplify yet make more robust and user-friendly our standards and procedures, backed up by the courage our employees have to exercise their STOP WORK Authority as empowered to all SEB employees by our PGCEO whenever the situation is deemed not safe. We will continue to further embed a strong safety culture, focusing on strengthening the capabilities of our employees as well as using new technology to make our systems simpler, smarter and more fit for purpose.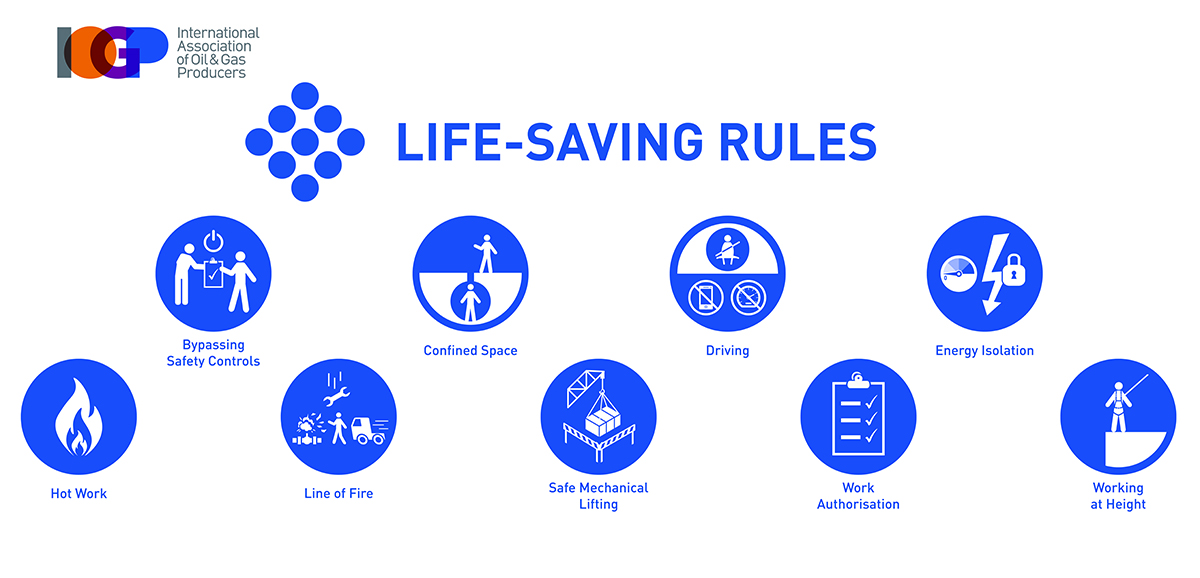 In FY2021, we upheld our commitment to the Industry-shared objective of improving the overall safety performance, achieved through cooperation and experience transfer with industry peers and government stakeholders. This collaboration enables not only an open sharing of lessons learnt to prevent harm elsewhere, but also the sharing and adoption of HSE best-practices and initiatives across our industry, which drives a collective continuous improvement across our business and operating environment.
Accolades
RAPID PETRONAS UPT P27 Project – Focus Recognition Award
Recipient: Sapura Technology Solutions Sdn Bhd

Awarding Entity: RAPID PETRONAS UPT P27
Recognition of Appreciable achievement in Safety & Health
Recipient : Sapura Engineering & Construction (India) Private Limited

Awarding Entity: Oil and Natural Gas Corporation of India (ONGC)
Mumbai Port Trust – Golden Peacock OSH Award
Recipient : Sapura Engineering & Construction (India) Private Limited

Awarding Entity: Institute of Directors India
Sapura Alliance – Global Rig of the Year Award
Recipient : Sapura Drilling & Asia Sdn Bhd

Awarding Entity: The Royal Dutch SHELL
Gold Award in Occupational Safety and Health
Recipient : Sapura Drilling & Asia Sdn Bhd

Awarding Entity: Malaysian Society of Occupational Safety & Health (MSOSH)
Recognition for Active Participation in HSE Improvement Campaign
Recipient : Sapura Offshore Sdn Bhd

Awarding Entity: Chevron Thailand
SEOB-Pasir Gudang - OSH GOLD Award
Recipient : Sapura Offshore Sdn Bhd

Awarding Entity: Malaysian Society of Occupational Safety & Health (MSOSH)
Certificates
ISO 9001:2015 (Quality)
Sapura Drilling Asia Sdn Bhd
Sapura Energy Australia Pty Ltd
Sapura Energy Mexicana, S.A.P.I. de C.V.
Sapura Engineering Sdn Bhd
Sapura Fabrication Sdn Bhd
Sapura GeoSciences Sdn Bhd
Sapura Offshore Sdn Bhd
Sapura Pinewell Sdn Bhd
Sapura Subsea Services Sdn Bhd
Total Marine Technology Pty Ltd
ISO 14001:2015 (Environmental)
Sapura Drilling Asia Sdn Bhd
Sapura Energy Australia Pty Ltd
Sapura Energy Mexicana, S.A.P.I. de C.V.
Sapura Fabrication Sdn Bhd
Sapura Offshore Sdn Bhd
Sapura Pinewell Sdn Bhd
Sapura Subsea Services Sdn Bhd
Total Marine Technology Pty Ltd
ISO 45001:2018 (OHS)
Sapura Offshore Sdn Bhd
Sapura Pinewell Sdn Bhd
Sapura Subsea Services Sdn Bhd
Total Marine Technology Pty Ltd
OHSAS 18001:2007
Sapura Drilling Asia Sdn Bhd
Sapura Energy Australia Pty Ltd
Sapura Energy Mexicana, S.A.P.I. de C.V.
Sapura Fabrication Sdn Bhd
AS/NZS 4801:2001 (OHS)
Sapura Energy Australia Pty Ltd