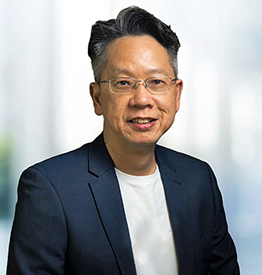 ANDY CHEW SENG HENG
Group Chief Financial Officer
AGE / GENDER/ NATIONALITY:
57 / Male / Malaysian
DATE OF APPOINTMENT:
1 December 2021
DIRECTORSHIP IN OTHER PUBLIC COMPANIES AND LISTED ISSUERS:
WORKING EXPERIENCE:
Andy Chew is currently the Group Chief Financial Officer of Sapura Energy. He was appointed to the role of Group Chief Financial Officer, effective 1 December 2021 after serving as Acting Group Chief Financial Officer since 1 October 2021. Andy Chew first began his journey here in Sapura Energy as VP, Group Controller on 19 April 2021. 
Andy is a senior finance professional with 30 years of broad experience in the energy sector working for Royal Dutch Shell ("RDS") Group. He started his career in 1991 with Shell companies in Malaysia and held the Finance Director position before moving to the RDS head-office in 2013 based in The Hague for 7 years as the Head of Reporting. Prior to moving to The Hague, he held both country and regional roles responsible for Malaysia, Singapore, Brunei, Philippines, Thailand, China, India, New Zealand, and Australia. 
ACADEMIC/ PROFESSIONAL QUALIFICATIONS:
Bachelor's Degree (Hons.) in Accounting, University of Malaya (1991)
Chartered Accountant, Malaysian Institute of Accountants (1996)
Harvard Business School Senior Management Development Program (2000)
INSEAD Group Business Leadership Program (2002)
Mandatory Accreditation Programme for Directors of Public Listed Companies (2013)