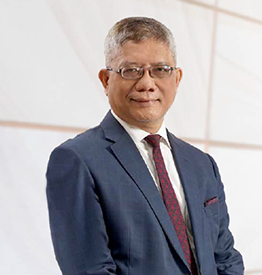 Dato' Azmi Mohd Ali
Independent Non-Executive Director,
Malaysian
AGE / GENDER/ NATIONALITY:
60 / Male / Malaysian
DATE OF APPOINTMENT:
BOARD COMMITTEE MEMBERSHIPS:
Member, Board Audit Committee
Chairman, Board Nomination and Remuneration Committee
DIRECTORSHIP IN OTHER PUBLIC COMPANIES AND LISTED ISSUERS:
Director, S P Setia Berhad
Director, Worldwide Holdings Berhad
Director, Maybank Islamic Berhad
EXPERIENCE/ACHIEVEMENT AND OCCUPATION:
Dato' Azmi Bin Mohd Ali is the Senior Partner of Azmi & Associates, a full service corporate and commercial law firm of close to 80 lawyers, based in Kuala Lumpur, Malaysia. The firm, Azmi & Associates under his leadership is recognised as one of the largest law firms (by size) in Malaysia.
He is an experienced and is one of the leading corporate lawyers in Malaysia with expertise in the areas of mergers and acquisitions, joint ventures, cross-border transactions, project finance, privatisation, energy, oil and gas and foreign investments.
Prior to his endeavour in private practice, Dato' Azmi had spent 6 1/2 years as an in- house counsel of PETRONAS. He was involved in projects of national importance for Malaysia and negotiated and concluded the NGPSA, a major gas development project for Malaysia, in 1990.
His accomplishments as a corporate lawyer are well noted and have earned him numerous awards, accolades and recognitions from reputed international legal publications. He won the prestigious International Law Office 2016 Clients Choice Award for Malaysia in Mergers & Acquisitions.
Currently, he serves as a Director of Terralex, a Florida-based world-wide network of 155 law firms with 17,000 lawyers within its member firms spanning across 100 jurisdictions world-wide. He is also a Director of Institute of Corporate Directors Malaysia, UiTM Holdings Sdn Bhd, S P Setia Berhad and Worldwide Holdings Bhd.
He was a Director of Chemical Company of Malaysia Berhad, Cliq Energy Berhad, Financial Reporting Foundation and Seacera Group Berhad. He had previously served as a Director of Sime Darby Berhad for more than five years and as a Director for CCM Duopharma Biotech Berhad for close to two years. He was also a Director of Perbadanan Nasional Berhad, a Government-owned company providing finance for franchise business.
ACADEMIC/ PROFESSIONAL QUALIFICATIONS:
Master of Laws (LLM) in the United States of America & Global Business Law, University of Suffolk, Boston Massachusetts, USA
LLB (Hons), University of Malaya