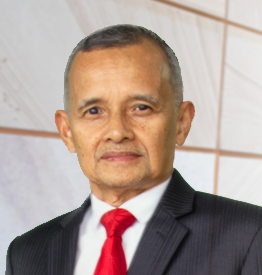 DATUK ISKANDAR BIN A SAMAD
Independent Non-Executive Director
AGE / GENDER/ NATIONALITY:
65/ Male / Malaysian
DATE OF APPOINTMENT:
26 May 2023
BOARD COMMITTEE MEMBERSHIPS:
DIRECTORSHIP IN OTHER PUBLIC COMPANIES AND LISTED ISSUERS:
EXPERIENCE/ACHIEVEMENT AND OCCUPATION:
Datuk Nur Iskandar carries with him 41 years of experience in the downstream oil, gas and petrochemical industry; holding many senior leadership positions in PETRONAS (Petroliam Nasional Berhad), Malaysia's national oil company and Malaysia's only Fortune 500 organisation. His main skill sets are project management and business operation of manufacturing facilities.
Datuk Nur Iskandar started his career in 1980 with PETRONAS as a Trainee Engineer and grew to become a Process Engineer. In 1987, he moved to Malaysia LNG Sdn Bhd as Head of Terminal (Operations) until 1989. In 1989, he joined Polypropylene Malaysia Sdn Bhd until 1997. In 1997, he was transferred to MTBE Malaysia Sdn Bhd as Project Director where he served until 2001 before being transferred to PETRONAS Gas Berhad as General Manager of Plant Operations Division. He held several Senior Managerial positions during his tenure with PETRONAS from 2001 to 2012 which included being Chief Executive Officer (CEO) of PETRONAS Fertilizer (Kedah) Sdn Bhd, Senior General Manager of PETRONAS Human Resource Management (Leadership & Capabilities Development), Managing Director/CEO of Petronas Penapisan Melaka Sdn Bhd & Malaysia Refining Company.
Datuk Nur Iskandar was the Project Director (Petrochemical) of Pengerang Integrated Complex (PIC) in Johor, Malaysia for the period from 2012-2021. He was responsible in taking the lead in the execution of 6 grass root petrochemical project packages at an estimated value of USD2 billion.
Datuk Nur Iskandar was a member of Industry Advisory Council of Universiti Sains Malaysia and Universiti Teknologi Petronas. He was also on the Board Directors of several Petronas's subsidiaries previously.
Datuk Nur Iskandar is currently a member of Board of Trustees of Islamic Relief Malaysia, a humanitarian organisation.
ACADEMIC/ PROFESSIONAL QUALIFICATIONS:
BSc (Hons) Chemical Engineering, University of Leeds, United Kingdom