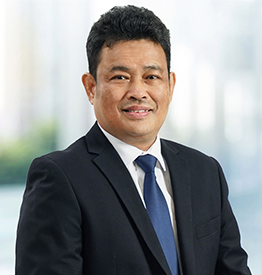 MOHAMAD NASRI BIN MEHAT
Chief Executive Officer,
Operation & Maintenance
AGE / GENDER/ NATIONALITY:
55 / Male / Malaysian
DATE OF APPOINTMENT:
1 April 2021
DIRECTORSHIP IN OTHER PUBLIC COMPANIES AND LISTED ISSUERS:
WORKING EXPERIENCE:
Nasri Mehat is currently the Chief Executive Officer, Operations & Maintenance of Sapura Energy Berhad.
In 2010, Nasri joined Kencana Pinewell Sdn Bhd (now known as Sapura Pinewell Sdn Bhd) as General Manager, Topside Major Maintenance and was promoted to Senior General Manager in 2014. Prior to his current position, he was the Head of Hook-up & Commissioning Division at Sapura Energy since 2018.
Before joining Sapura Energy, Nasri was the General Manager of Operations for Nam Fatt Corporation Bhd, overseeing the company's operation in Sudan. He has 30 years of experience in the construction industry, predominantly in the oil & gas sector and has worked in Malaysia, North Africa, and Europe. He has held leadership and managerial positions specialising in operations, project management, and contract management in major construction companies covering infrastructure projects, power plants, pipelines, pumping and heating stations, onshore plant construction, fabrication works, offshore hook-up & commissioning, facilities upgrading and modification, brownfield rejuvenation and topside major maintenance work.
ACADEMIC/ PROFESSIONAL QUALIFICATIONS:
BSc in Civil Engineering Technology, Southern Illinois University, United States  of America
Diploma in Contract Law, University of Wolverhampton, United Kingdom