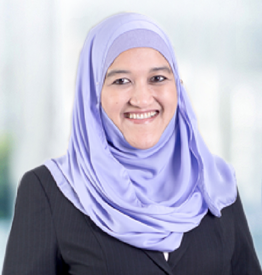 Norzaimah Maarof
Group Chief Counsel,
Group Legal & Governance
AGE / GENDER/ NATIONALITY:
53 / Female / Malaysian 
DATE OF APPOINTMENT:
14 November 2022
DIRECTORSHIP IN OTHER PUBLIC COMPANIES AND LISTED ISSUERS:
WORKING EXPERIENCE:
Norzaimah Maarof is the Group Chief Counsel of Sapura Energy Berhad. She leads the Group's legal and governance functions including compliance, corporate secretarial, managing legal risks and strengthening corporate governance and business policy. 
She has over 29 years of extensive corporate commercial experience in diverse industries including renewable energy, healthcare, technology, pharmaceutical, chemical, agri-business and plantation. Norzaimah is well-versed in the areas of corporate and organisational restructuring, transformation and business turnaround, Mergers & Acquisitions, Capital and Debt markets and has strong governance, risk management, compliance, and legal background. 
She has had working experiences with home-grown public listed companies, GLCs as well as MNCs. In addition, she has had regional and international responsibilities, with a stint at the corporate headquarters of an MNC in New York and a Regional role covering Asia, Japan, Australia, Latin America, the Middle East, and Africa. Norzaimah was the Group Chief Executive Officer of a major university holding company, where she oversaw, among others, the implementation and operation of two large-scale solar plants. 
ACADEMIC/ PROFESSIONAL QUALIFICATIONS:
LLB (Honours) from University of Southampton,

Southampton, United Kingdom

Barrister-at-Law, Inner Temple