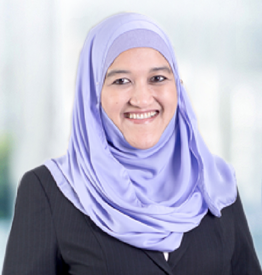 Norzaimah Maarof
Group General Counsel,
Group Legal & Compliance
AGE / GENDER/ NATIONALITY:
52 / Female / Malaysian
DATE OF APPOINTMENT:
14 November 2022
DIRECTORSHIP IN OTHER PUBLIC COMPANIES AND LISTED ISSUERS:
WORKING EXPERIENCE:
Norzaimah Maarof is the Group General Counsel of Sapura Energy Berhad. She leads the Group's legal and compliance functions, managing risks and strengthening its corporate governance and business policy.
Before joining Sapura Energy, Norzaimah was the Group Chief Executive Officer of UiTM Holdings Group of Companies. She has over 28 years of extensive corporate commercial experience in diverse industries including renewable energy, healthcare, technology, pharmaceutical, chemical, agri-business and plantation. Norzaimah is well-versed in the areas of corporate restructuring and has a strong governance, risk management, compliance and legal background.
ACADEMIC/ PROFESSIONAL QUALIFICATIONS:
LLB (Honours) from University of Southampton, Southampton
Institute of Corporate Directors Malaysia, Member
Institute of Enterprise Risk Practitioners (IERP), Member