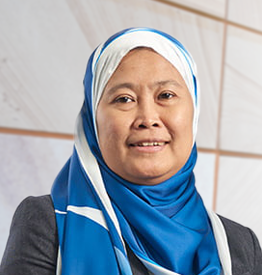 WAN MASHITAH WAN ABDULLAH SANI
Independent Non-Executive Director
AGE / GENDER/ NATIONALITY:
56/ Female / Malaysian
DATE OF APPOINTMENT:
26 May 2023
BOARD COMMITTEE MEMBERSHIPS:
DIRECTORSHIP IN OTHER PUBLIC COMPANIES AND LISTED ISSUERS:
EXPERIENCE/ACHIEVEMENT AND OCCUPATION:
Cik Wan Mashitah has over 28 years' experience encompassing finance, strategic planning, project costing and supply chain management with the last position as Managing Director/ Chief Executive Officer of Malaysia Marine and Heavy Engineering Holdings Berhad (MHB) with market capitalisation of over RM1 billion.

Cik Wan Mashitah is an accountant by profession. She started her career in 1992 as Audit Assistant with Grant Thornton Malaysia and rose to the rank of Audit Principal. She left for MISC Berhad in 2002 and had served various capacities as General Manager, Finance before being seconded to Malaysia Marine and Heavy Engineering Sdn Bhd and was subsequently appointed as Chief Financial Officer of MHB on 30 June 2010.

Cik Wan Mashitah took up the position as Acting Chief Executive Officer of MHB in May 2016 and assumed the position of Managing Director & Chief Executive Officer in 2017 and served until 2020.
Cik Wan Mashitah was the Chief Executive Officer of E&P Operations and Maintenance Services Sdn Bhd (EPOMS) from 31 March 2022 to 30 September 2022. During this 6-month position, she helped to transit the company from a wholly owned subsidiary of PETRONAS to a privately owned company.
ACADEMIC/ PROFESSIONAL QUALIFICATIONS:
Fellow of the Chartered Association of Certified Accountants, United Kingdom